HBKU's TII Signs Agreement with Chinese Embassy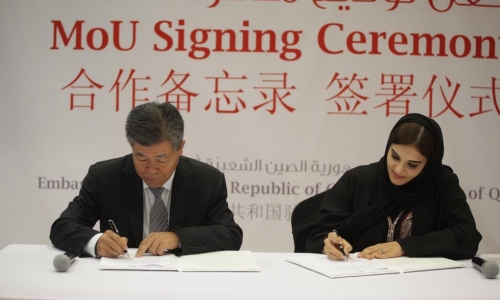 The Translation and Interpreting Institute (TII) of Hamad Bin Khalifa University (HBKU), a member of Qatar Foundation, signed a memorandum of understanding (MoU) with the Chinese embassy in Qatar recently.
Recognising the importance of Arabic and Chinese language, education and culture in the global economy, both parties have committed to collaboration in the areas of language teaching and cultural activities for the benefit of learners and the wider Qatari community.
The MoU sets the foundation for collaboration between the Language Centre at TII and the Chinese embassy in Qatar, and is valid for two years.
The Language Centre at TII supports the academic mission of the institute by currently offering students expert language training in five languages, including Mandarin Chinese. Aimed to serve the needs of the professional community in Doha, classes emphasise the integration of language and culture and incorporate technology in learning and teaching.
Dr Amal al-Malki, executive director of TII, said: "The MoU will help us explore opportunities to promote Chinese language and culture in Qatar as well as Arabic, Arab and Qatari culture in China. The MoU helps realise our vision of building linguistic capacity in Qatar and opens the door to further collaborations with prominent Chinese institutions."
The agreement marks a strong commitment by TII and the embassy to the promotion of language education opportunities. The parties are dedicated to supporting academic exchange and study-abroad programmes in Qatar and China, and will also assist in the organisation of public seminars on China, its languages and culture, with next year being Qatar-China 2016, a year dedicated to mutual understanding, recognition and appreciation between the two countries.
Chinese ambassador Gao Youzhen said, "The Chinese language has the longest history of continuous use and the largest mother-tongue population. Along with China's domestic development and expansion of international exchange, many foreigners seek to learn the language in order to better understand Chinese culture."