Training Workshops
Training Workshops
Learn Translation & Interpreting with the TII Translation and Training Center!
The Translation and Training Center aims at promoting community development and building capacity in Qatar and the region through continuing education (professional development) opportunities in translation and interpreting.
The Center provides practicing translators, interpreters and communication specialists with opportunities to continue their professional development through specialized workshops that aim to enhance and expand skill sets and provide orientation in key technological innovations and new methodologies in the field of translation and interpreting. The Center offers both regular workshops and tailored workshops for the community throughout the academic year.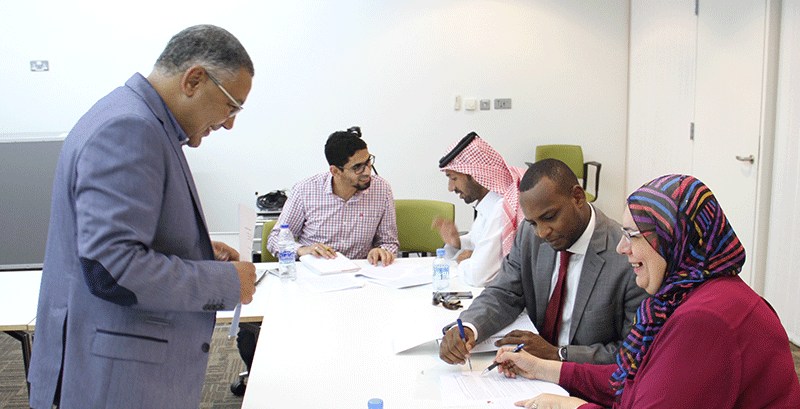 We are committed to serving the needs of busy professionals and university students in Qatar and the region. Our team of experienced trainers utilizes engaging approaches to teaching that make learning fun and effective.
We offer workshops in a wide range of specialties around the year. They include but are not restricted to:
Accessible Hospitality and Events
Audiovisual Translation: Subtitling
Basic Principles of Legal Translation
Business Arabic Writing
Interpreting Basics
Learn the Basics of Professional Translation
Literary Translation
Master the Technique of Note-taking
Media Translation
Medical Translation
Professional Interpreting
Professional Translator's Toolkit
Revision and Quality Assurance
Translating Sports
Translation in Business & Finance
Translation of News and Views
Translation Technology: SDL Trados
Voice Over – Voicing Documentaries Demystified!
Customized Workshop Offerings
TTC offers customized training workshops to organization and entities with content tailored specifically to their needs. Together and in advance, we determine the level of knowledge of training workshop participants so learning content and objectives can be adapted to their needs.
Are you looking for a customized training workshop within your organization? Our team is able to organize customized training workshops by:
Collaborating with your team to evaluate your organization's training needs and requirements.
Designing customized training workshop to meet those needs of your employees.
Deliver training workshops when and where it works best for your organization; whether onsite, at TII's premises, or online.
To start the conversation, you may contact us through TTC@hbku.edu.qa.
Public Workshop Offerings
Our workshop annual cycle usually starts in September and ends in the following June.
Workshop Format:

Face-to-face: 12 hours / 4 days / Sunday to Wednesday / 4-7pm / TII premises
Online: 12 hours / 8 days / Sunday to Wednesday / 4-5:30pm / HBKU Platform

In case a workshop happened to be during the holy month of Ramadan, a different time will be set.
A certificate of completion will be delivered to participants who have successfully completed the entire training module.
Kindly check out our workshop policies on age requirements, registration, cancellation, safety and conduct, and discounts before applying.
Upcoming Workshops
Workshop Title
Mode
Leader
Date
Time
Fees
Professional Translation - Basic Level
Face-to-Face
Sayed Mohamed
September 10 – 13, 2023

4:00 – 7:00 PM

QAR 1,300
Medical Translation
Online
Dr. Ashraf Abdel Fattah
September 17 – 25, 2023

4:00 – 6:00 PM

QAR 950
Business Arabic Writing
Dr. Omaima El-Hardlo
October 15 – 23, 2023
Trados Studio 2021 - Basic Level
Face-to-Face
Wahba Youssef
October 15 – 18, 2023

4:00 – 7:00 PM

QAR 1,300
Professional Translation - Advanced Level
Dr. Hisham Ali
October 22 – 25, 2023
Revision and Quality Assurance
Online
Dr. Ahmed Alaoui
November 5 – 13, 2023

4:00 – 6:00 PM

QAR 950

Trados Studio 2021 - Advanced Level
Face-to-Face
Wahba Youssef
November 19 – 22, 2023

4:00 – 7:00 PM

QAR 1,300
Sport Writing and Editing
Nabeel Rashid
December 3 – 6, 2023
Legal Translation
Online
Dr. Ahmed Alaoui
January 7 – 15, 2024

4:00 – 6:00 PM

QAR 950

Master the Technique of Note-taking
Face-to-Face
Mazen Alfarhan
January 14 – 17, 2024

4:00 – 7:00 PM

QAR 1,300
Translator as a Creative Writer
Abdulla Zaki
January 21 – 24, 2024
Business Arabic Writing
Online
Dr. Omaima El-Hardlo
February 4 – 12, 2024

QAR 950

Translating News and Views
Online
Dr. Ashraf Abdel Fattah
February 18 – 26, 2024

4:00 – 6:00 PM

QAR 950

Sport Writing and Editing
Face-to-Face
Nabeel Rashid
March 3 – 6, 2024

4:00 – 7:00 PM

QAR 1,300
Simultaneous Interpreting - Beginner Level 1
Mazen Alfarhan
May 19 – 22, 2024
QAR 2,600
Simultaneous Interpreting - Beginner Level 2
Mazen Alfarhan
May 26 – 29, 2024
Professional Translation - Basic Level
Sayed Mohamed
June 2 – 5, 2024
QAR 1,300
Business and Finance Translation
Dr. Hisham Ali
June 9 – 12, 2024