Learn the Basics of Professional Translation
Learn the Basics of Professional Translation
Learn the Basics of Professional Translation
Introduction
Workshop Leader: Sayed Mohamed
Workshop Schedule Date: 22 September 19 - 25 September 19
Workshop Schedule Time: 4:00 - 7:00 pm
Duration: 3 hours
Venue: Penrose House (LAS) Building - Classroom A015
About the Workshop
Overview
The development of translation competence requires a mastery of translation techniques and strategies through professional training. This includes (1) mastering the mechanics underlying the craft and an endless learning process in two languages, (2) applying different approaches (depending on the text type), (3) carrying out a proper terminology search, (4) developing a sharp eye to sensitive ethical concerns, and (5) performing quality control through a careful self-revision of the translation.
This workshop provides professional training in the above fields. It seeks to meet the needs of translators/would-be-translators who wish to develop their skills in a professional setting.
Structure
The workshop includes a combination of (1) presentations, (2) individual and group work, (3) guided translation training and problem solving sessions with regard to (a) the principles and techniques of translation, (b) application of research tools, (c) self-revision/proofreading process and (d) professional ethics.
Methodology
This workshop is practice-oriented with a view of applying the theoretical knowledge in Translation Studies to solving challenges and common problems translators face in their day-to-day work. A wide range of texts reflecting various genres and fields such as education, business and finance, media, law, science and technology, as well as texts produced by NGO's and IGO's will be presented to the participants to translate in class or as homework. Previously translated texts will also be used as parallel corpora to enable the participants to discuss and analyze the translation choices made and come to extrapolate the techniques and strategies conducive to adequate translation.
Translation strategies and techniques will be exposed and applied in (1) translating, (2) term/meaning searching, (3) proofreading/revising, and (4) training exercises through group-work sessions.
Learning Objectives
Enabling trainees to apply the conceptual knowledge they have in real life practice;
Exposing trainees to various professional translation assignments with texts of different modes and genres;
Examining the challenges posed to translators in their daily work and enabling trainees to take justifiable decisions when dealing with such challenges;
Focusing on specific aspects of Arabic as a target language in translation and helping trainees gain an understanding as to how Arabic differs linguistically and stylistically from English;
Enabling trainees to criticize translated texts and defend their own choices in group discussions.
Equip participants with fairly advanced translation techniques;
Guide participants through the application of the necessary search tools;
Exchange experiences and discuss concerns with a view to improving translation skills in a professional setting.
Learning Outcomes
Acquire a hands-on experience in professional translation and problem solving
Learn what to look for in a translation and how to look for it in a systematic way;
Learn how to perform a terminology search;
Acquire multiple translation techniques/strategies;
Learn the principles of self-proofreading/revision;
Experience the professional translation environment
Target Participants
This Workshop is recommended for established translators and students of translation. The maximum capacity is 20 participants.
About the Leader/Instructor
Sayed Mohamed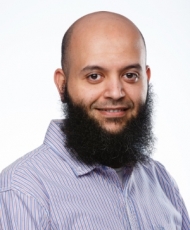 Sayed is a Senior Translation Specialist at TII's Translation and Training Center since August 2014. He is contributing to the delivery of high-quality translation services, and working towards training Translation Studies MA students during their internship within the Center.
Sayed has more than 15 years of experience in various translation fields, including politics, literature, fine arts, law, medicine, education, media, and publishing. Before joining TII, he was a Translation Specialist at Qatar Foundation (QF) Communication Directorate. Prior to that, he had worked at Nahdet Misr Publishing Group as a translator and then a publishing executive.
Sayed's education credentials include a Bachelor's degree in English Language and Literature from Ain Shams University, Egypt, in 2001. He has also received a Master's degree in Translation Studies from Hamad Bin Khalifa University in 2017. He has been trained in some of the world's most respected institutions, including a six-day knowledge transfer workshop with the Economist Group, a training program for publishers from the Arab world organized by Goethe Institute in Cairo, and a project management training course based on the PMI's methodology.