HBKU's Translation and Interpreting Institute Acts as a Catalyst for Disability-Inclusive Change in Wider Society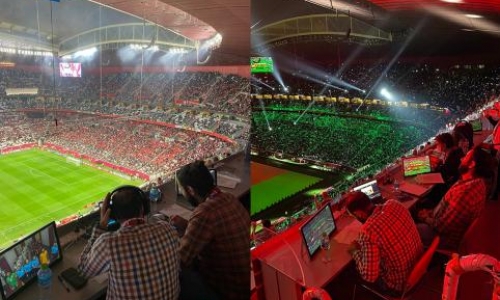 At the Translation and Interpreting Institute (TII), part of Hamad Bin Khalifa University (HBKU), a wide range of socially-driven projects contribute to creating a more inclusive society by making information, entertainment, culture and heritage accessible to all, including people with disabilities.
TII is part of HBKU's College of Humanities and Social Sciences (CHSS), providing graduate programs in translation and interpreting, advancing research, and serving the community through foreign-language education and high-quality translation and interpreting services. One of the primary aims driving TII's activities is its focus on achieving social justice.
Accessibility courses
TII's Translation and Interpreting Studies Department (TISD) delivers three innovative and interdisciplinary Master of Arts (MA) programs in Translation Studies (MATS) and Audiovisual Translation (MAAT), which are both validated by the Faculty of Translation and Interpreting (FTI) of the University of Geneva. The college's MA and Intercultural Communication (MAICC), launching in fall 2022, is delivered through TII.
Accessibility is part of several specialized courses in the MAAT program, such as subtitling, voiceover, and the complex practice of intersensory translation. These courses provide graduates with the specialist skills to bridge the communication gap for persons with disabilities, among which are persons with hearing or vision loss or learning disabilities. Using their practical and technological skills as social-oriented translators and researchers, the college's students are social changers who work to promote inclusion and improve people's lives.
Should they choose a thesis topic related to accessibility, MAAT students pursue research and community projects throughout their studies and work experience internships with the guidance of highly specialized faculty. Courses and projects are led by Dr. Amer Al-Adwan, Associate Professor of Audiovisual Translation in the field of Subtitling; Dr. Rashid Yahiaoui, Associate Professor in the Department of Translation and Interpreting Studies, on voicing (dubbing and voice-over) and Dr. Josélia Neves, Professor and Associate Dean for Social Engagement and Access. The courses focus on multiformat communication for education, media, cultural settings, and the arts, among others.
Dr. Neves says: "Inclusivity is at the heart of social progress and our contribution is through practical efforts that promote services to improve accessibility in all contexts. A major aspect of our graduate programs is a commitment to enrich society through transformative educational experiences. We make every effort to give our students the personal and professional foundations they need to be socially engaged global citizens."
Showcasing the innovative nature of ongoing research, a recent thesis project addressed audiovisual translation and accessibility as an integral component of the filmmaking. Instead of adding audio description once the film was finalized, CHSS student, Susan Al-Abbas, created a short animation based on the audio description itself. That inversion places translation at the heart of creation and questions existing paradigms.
Language learning
Inclusion and accessibility are the ethos of CHSS, and the Language Center (LC) reaches out to various communities, particularly disadvantaged ones, to offer language courses. The center has waived tuition costs, partially or fully, for students from the Mental Health Services program, the Orphan Care Center (Dreama), as well as Afghan refugees and students with autism.
Dr. Nima Nazari, Director of the LC, explains: "Such initiatives are an integral part of creating equal opportunities for these communities to achieve educational, cultural, cognitive and social progress. Our language classes play a role in making sure disadvantaged students can better integrate into linguistically diverse society. Many of these students have made excellent progress in their endeavors and are now part of the community of practice at the center and CHSS."
Capacity building and professional services
The Translation and Training Center (TTC) at TII creates innovative opportunities that support individual, professional and community development. Since its establishment, TTC has aimed to be recognized as the top training and service destination in translation and interpreting with a view to having a visible impact on the social, economic, and workforce development in Qatar and the region.
"Social contribution in general is an essential part of the center's work, and accessibility and inclusion, specifically, is a cause dear to our heart. TTC's contributions to society are mainly through the audiovisual translation unit and through training workshops," says Nada Al-Mahmeed, Director of TTC.
TTC works with clients to transform visual mediums to be fully accessible to the visually impaired, blind, deaf and hard of hearing community in Qatar. This is done through enriched subtitles, audio description, voice over, and sign language interpreting. Over the years, the center has worked with multiple partners and stakeholders, including Msheireb Museums, Northwestern University, and Doha Film Institute, among others.
Audio-descriptive commentary training program
TTC's training workshops have included Accessible Hospitality and Events, and Subtitling in Audiovisual Translation.
In November 2021, ahead of the FIFA Arab Cup, and in partnership with the Centre for Access to Football in Europe (CAFE), TTC hosted a commentary training program to enhance the match-day experience for visually impaired and blind fans. The training focused on aspects of audio-descriptive commentary (ADC), and prepared participants to commentate in Arabic or English, describing the on-pitch action and significant visual information.
The successful program attracted almost 100 applicants. Participants who passed the assessments were offered the opportunity to deliver commentary during matches. TTC and CAFE witnessed the successful delivery of ADC in Arabic at Al Bayt Stadium and Education City Stadium.
TII's impact and social progress
TII's inclusion and accessibility programs position the institute as an active agent in country-wide efforts and initiatives related to accessibility and inclusion, which is affirmed by the positive feedback from those who have benefited over the years. TII has also enhanced knowledge, particularly in the Arabic language context; and has trained future service providers; supported community development; implemented awareness raising activities; and contributed to changing mentalities in the local context.
Al-Mahmeed concludes: "We were honored and ecstatic to learn about the high satisfaction rates from football spectators who utilized the live audio-description commentary during the FIFA Arab Cup 2021. Visually impaired and blind football fans enjoyed the experience along with their family and friends. Such positive feedback is what pushes our team at TII to do more and to do better."
Following the success of the ADC services delivered by trainees, TTC and CAFE will continue to offer the program ahead of the FIFA World Cup Qatar 2022. More information will be available soon at https://tii.qa.
CHSS is currently accepting applications to its MA in Audiovisual Translation, in addition to its other graduate programs. Interested students can visit chss.hbku.edu.qa.