About the Leader/Instructor
Sayed Mohamed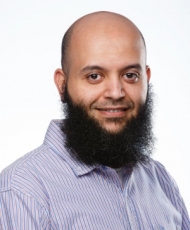 Sayed is a Senior Translation Specialist at TII's Translation and Training Center since August 2014. He is contributing to the delivery of high-quality translation services, and working towards training Translation Studies MA students during their internship within the Center.
Sayed has more than 15 years of experience in various translation fields, including politics, literature, fine arts, law, medicine, education, media, and publishing. Before joining TII, he was a Translation Specialist at Qatar Foundation (QF) Communication Directorate. Prior to that, he had worked at Nahdet Misr Publishing Group as a translator and then a publishing executive.
Sayed's education credentials include a Bachelor's degree in English Language and Literature from Ain Shams University, Egypt, in 2001. He has also received a Master's degree in Translation Studies from Hamad Bin Khalifa University in 2017. He has been trained in some of the world's most respected institutions, including a six-day knowledge transfer workshop with the Economist Group, a training program for publishers from the Arab world organized by Goethe Institute in Cairo, and a project management training course based on the PMI's methodology.