About Qatar
About Qatar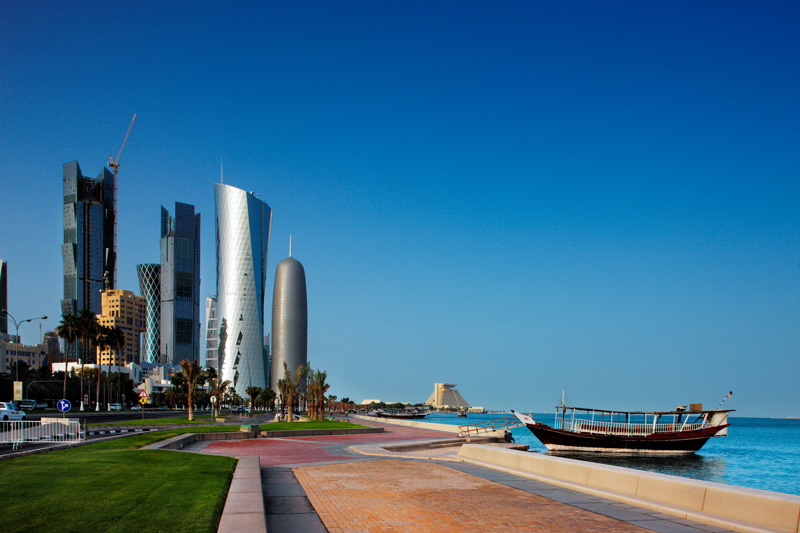 Located in the Arabian Gulf, Qatar shares a land borders with the Kingdom of Saudi Arabia to the south-west and is surrounded by the Arabian sea. The Global Peace Index ranks features Qatar as one of 30 most peaceful countries in the world, and the most peaceful in the MENA region.
Qatar has an arid desert climate characterised by unbearably hot summers, pleasantly warm winters, plenty of sunshine and little rain. As in any desert the drop in temperature from day to night is large, decreasing by more than 10°C in the driest months. Qatar's landscape is flat and sandy with a few low hills and a limestone plateau. The absence of large topographical features means little regional climate variation, though coastal regions are slightly more moderate. Qatar sits on a peninsula sticking out into the Persian Gulf. It shares its only land border with Saudi Arabia in the south. Bahrain, an island kingdom, sits not far across the Gulf ofBahrain to the northwest, and a few of Bahrain's smaller islands sit just off the west coast of Qatar. Qatar has a very similar climate to Saudi Arabia but is slightly hotter than Bahrain due to its southerly location and connection to the mainland.
The weather in October
Doha has a hot desert climate. The area within 40 km of this station is covered by oceans and seas (91%), lakes and rivers (5%), and built-up areas (3%).
Weather in October (gets cooler towards the end of the month):
The average temperature in Doha in October is very hot at 28.9 °C (84.02 °F).
Afternoons can be severely hot with average high temperatures reaching 35.2 °C (95.4 °F)
Overnight temperatures are generally fairly hot with an average low of 23.4 °C (74.1 °F).
The mean daily temperature variation/ range in October is 11.8 °C (21.2 °F).
The weather in October is arid. An airy 1.1mm (0in) of water is deposited.
The shortest day is 11:09 long and the longest day is 11:52 long with an average length of 11:30.
While outdoors, use sunscreen generously over all exposed areas of your skin and keep yourself hydrated. Exposure to extreme heat during the summer (usually between June and early October) may lead to sunburns or heat strokes due to dehydration.
If you are visiting the desert, carry lots of water and food and ensure that your vehicle has a spare tyre and cables, just in case of any mishaps on the way. Also, keep a few emergency numbers on speed dial on your phone.
Dress code in Qatar
Although Qatar clothing has changed over the years, Qataris are proud of their clothing, and traditional clothes are worn with pride on daily basis. Qatar is an Islamic country, and people dress in a very traditional manner.
Although there is no dress code as such, for foreigners, it is better to wear modest clothes, and conservative clothing is recommended. This implies no shorts for men, and no mini-skirts or tank tops for women. Foreign visitors are expected to dress in a style that is sensitive to Islamic culture.
Normal swimmers, including bikinis are acceptable on the beach, or by the pool, but, T-shirts and discreet covering of legs are desirable if you are away from such places. Topless sunbathing is not permitted. It is necessary to be particularly conscious of dress code when visiting public places like parks or malls or souq areas, particularly those frequented by mixed nationalities.
It is particularly important to dress modestly during the Holy Fasting month of Ramadan.
For women
Qatari women usually have their hair covered with a black head-dress called Shayla, their bodies are covered with black dress called abayha. Some women also cover their face with a black bourqa, and sometimes the eyes are left uncovered.
As for expatriates, the hot climate in Qatar, call for informal, but smart dressing. Women should avoid wearing spaghetti-strap or see-through blouses and short skirts.
For men
Qatari men wear a long white shirt over loose pants, and wear a loose headdress called gutra, in white or red and white cloth, held on with a black rope called agal. Of-course, foreigners are not expected to wear Arab costumes, but foreign men should avoid wearing shorts and sleeveless shirts in the street.
Official wear in Qatar
For men: Suits are rarely worn in the Gulf, except during important business meetings and related social events. The standard office wear is a shirt (long-sleeved), tie and light weight trousers.
For women: Acceptable work attire is dresses, trousers/skirts (below knee length), with a modest neck line, and no less than half-sleeve.
Find out more about the country in:
http://www.lifeinqatar.com/Pages/en/article/living/interesting-facts-about-qatar.html
https://www.lonelyplanet.com/qatar
Currenct and Banking
The currency used in Qatar is the riyal (QAR), which is subdivided into 100 dirhams. The riyal is pegged to the US dollar at a rate of 1 USD to 3.64 QAR, and can be found in the following denominations:
Notes: 1 QAR, 5 QAR, 10 QAR, 50 QAR,100 QAR, and 500 QAR
Coins: 1, 5, 10, 25 and 50 dihrams (1, 5 and 10 dirham coins are not often found in circulation)
Currency rankings show that the most popular Qatar Riyal exchange rate is the INR to QAR rate. The currency code for Rials is QAR, and the currency symbol is ﷼.
For top currency rates visit: http://www.xe.com/currency/qar-qatari-riyal
ATMs and credit cards
ATMs are readily available in Qatar and will, more often than not, accept both local and international credit and debit cards. Note that 24-hour access to ATMs is not always guaranteed, and that using ATMs operated by banks other than one's own, or using a credit card to withdraw cash, will incur extra charges.
Languages in Qatar
Although the official language is Arabic, most people can speak and understand English, which is quickly becoming the language of the business world.

That said, keep in mind that the ever-expanding foreign community is a diverse cultural entity and some people will be more proficient in the language than others, which can require a fair amount of patience.
Cultural dos and don'ts in Qatar
Western bathing attire should only be worn at hotels or private beaches
When seated with a Qatari, avoid showing the sole of your shoe
Traditionally, the right hand is used for shaking hands and eating, even for left-handed people
As alcohol is forbidden for Muslims, foreigners should not expect to receive any at a Qatari-hosted function, and should not offer it to Muslims at their own events
Religious discussions should be treated gently. Proselytising is illegal, and attempting to convert someone of a different faith (especially a Qatari) can be punishable by deportation or even arrest.